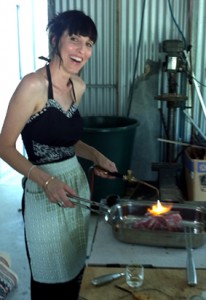 HOME
I was born on Atherton on the Tablelands in Far North Queensland Australia, and have lived in the North my whole life. I find the Tableland environment a fantastic place to create. I have a wonderful family who support my career in every way possible. I have found their support and belief invaluable.  
My father has been my best tutor, coming from an artistic Hungarian family of Portrait and Landscape Painters.  Having tried his hand at almost everything, he has a wealth of skills and knowledge to impart. 
I find multi-tasking is something that comes naturally and perhaps obsessively, as you can see, in my best safety gear, searing the lamb roast for dinner with my L.PG. welder.  Hey why not, it works awesomely!
I find that more often than not my concepts lead me to work with new mediums. Concept is very important to me as I feel that the intent and reason behind artwork, is what people really receive a lot from.  
I love nothing more than to hear someone effervescently sharing their experience with the works I produce, knowing it has changed their lives in some way, be it great or small.
 STUDY
High school wasn't so bad, and I began achieving, although I did struggle with art- I constantly felt the school curriculum to be rather restricting. As a consequence the only Very High Achievement I attained for art at High School was the very last project in year 12 –"You may produce any work in any medium"- I produced a semi abstract soapstone sculpture representing an intertwined family, titled "The Comfort".  I finally felt a freedom which allowed my passion for art to flourish.
When I turned 17, I headed to university and studied at James Cook University in Townsville where I completed a Bachelor of Visual Arts with Honours. (Receiving a Class 1 honours with a University Medal.) Whilst at university, I travelled between my home marble carving studio on the Tablelands and the Campus (400Km) in order to produce large works in marble.
On my Portfolio interview for university the lecturers felt sure I was a printmaker, but I didn't at all like the idea of being so process oriented. I undertook a traditional fine art degree in painting and sculpture, but in 2nd year I branched into illustration as a complementary area of study. Illustration provided an avenue for the particularity of my style and I enjoyed developing and applying my computer skills.
In my Honours year I found my niche in Sculpture with Drawing as my complementary area of study, and my year of study culminated in an exhibition entitled Beauty, Deeper than Skin supporting a body of research in form of a thesis.
After university I went to Carrara in Northern Italy to work on marble for a 3 week period and would very much like to return to work for a longer period in a sculpting studio around the area.
DRAWING
I found drawing, is essentially, congruent with carving. When Drawing I prefer to reveal the figures by removing and modeling layers of charcoal with an eraser, thus making this activity a subtractive process, not unlike stone carving.
Many of my drawings are created in the style- "Chiaroscuro" (Italian word for light-dark) embraced by artists in the Baroque and Renaissance periods. Da-Vinci used this style in the 1400's and Caravaggio made this the foundation of his style in the 1600's. By using this style I aim to describe emotion, movement and passion all captured by the intensity of light on the subject.
OTHER WORK
I work in a range of mediums from marble, copper, wax, fibre, bronze, to charcoal, installations, computer manipulated imagery and illustration.
I have a major interest in stone carving and find the challenge of figurative work in stone to be a fulfilling element of my career as an artist.  I have also newly felt great gratification from working collaboratively with other artists.
CONCEPT
Concept is very important to me as an artist.  In 1996 (Honours J.C.U.) I dealt with the Thin Ideal and the pressures on women to be thin. The exhibition reflected on the natural voluptuous beauty of the past; represented the reality of pressures and eating disorders in women; and finally resolved a fantasy state of beauty where "Beauty is Deeper than Skin".
In 1998 "The Sensitive Sides of Man" at the Cairns Regional Gallery dealt with Rural Youth Suicide in young men as well as the often unrecognised, positive elements of the male character. This show received international response and is being expanded to tour to Townsville and Brisbane with an extended focus of research.
In 2000 the solo exhibition "Re-visiting Sensitivities" further explored the issues surrounding males in regional communities, and a new body of work highlighted thoughts and feelings that effectively lead to often catastrophic circumstances. A visual perspective for growth and new direction was portrayed in order to reveal ways for the audience help or be helped to change these circumstances.
Currently, I enjoy developing concepts with and for my clients, this collaborative process is very gratifying.
It is my aim that the viewer can feel the mood of my work whilst also being able to retain and reflect on these emotions. I hope that people may receive something special from my work, and for that I give.
After all art is to enjoy.
Amanda Feher