The WW1 Light Horseman's Hat is a life-size Bronze Sculpture that was commissioned by Townsville Grammar School.
I was approached by Townsville Grammar School to help create a lasting memorial to the former teachers & students from the school who fought and died as part of ANZAC forces in World War 1.
The form of a Light Horseman's Hat from WW1 was chosen as the symbol of remembrance. The history of the Australian Light Horse Regiments and their exploits during conflicts since their inception before the Boer War is legendary. One of the most famous and infamous theatres of operations, the Light Horse Regiment were involved in conflicts at Gallipoli, through North Africa and Northern Europe during World War 1. The Light Horseman's hat is an iconic symbol of the Australian Army and is instantly recognisable all over the world. It was traditional that for men from the regiment who fell in battle, their hat would be left hanging on the marker of their graves.
The key feel for the work came from understanding how the Emu Feathers moved in the wind.  My friend had known the main actor (Jon Blake) in the movie "The Lighthorseman" and asked me if I had seen the film. I was looking for something to give me the sense of feeling that I needed to create in this symbolic part of the picture which I was set to capture. The movie was the perfect tool for this. The soldiers had comically referred to the feathers as "kangaroo feathers" when joking to their counterparts. The great Australian Spirit was an evident part of the character of these dedicated men and I hope my work captures this essence.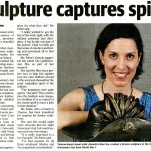 Photography by Giuseppe Vizzone, Amanda Feher, Chalkos Foundry and Wyn Binmore
Video by Chalkos Foundry